CRAFTING BEAUTIFUL SMILES
Creating hassle free relationships
between Dentist and Technicians
Here at City Dental Laboratory we have a large range of dental solutions to put a smile on both you and your patients faces. With over 32 years experience in the industry we are proud in the quality of service we offer.
We don't stand still either, we are constantly investing in and education ourselves in the latest technologies to offer you the best service we can.
Crown & Bridge
City Dental Laboratory manufactures a full range of restorations from a private full mouth rehabilitation case through to a basic NHS bonded crown. All our crown & bridge restorations are manufactured using quality, CE approved branded materials which are nickel free.
Prosthetics
Our prosthetic department offers an array of teeth such as Enigma Life, Natura, Ivoclar Vivodent, Myerson and Acrotone amongst others.
Included in the service is the return of all finished partial dentures on duplicate models at the fit stage.
Implants
Our dedicated team of implant technicians keep up to date with this constantly evolving field of dentistry by attending numerous courses and training workshops.
Due to the complexity of some implant cases, meticulous liaison between surgeon and laboratory is often required.
Orthodontics
The specialised field of orthodontics incorporates a wide range of disciplines and new innovative techniques.
Utilising the latest in laser scanning technology, we convert patient models into accurate, 3D digital images.
We understand that the relationship between practice and laboratory is crucial, because of this, we are dedicated to having continuity from the moment first impressions come to us to begin work, right up until the case is fitted to the patient.
When you work with us at City Dental Laboratory you will be assigned your own technician who you can liaise with regarding all aspects of your patients work.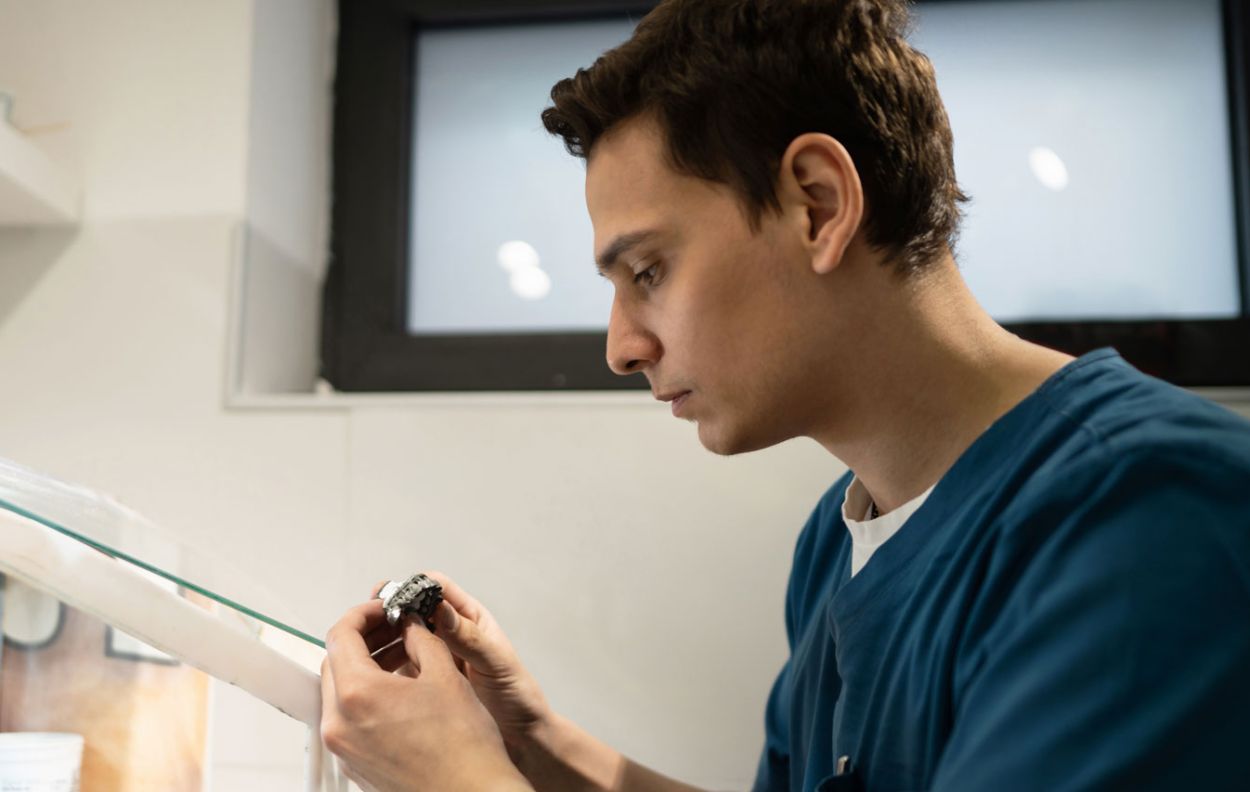 Technology
Dentistry is an everchanging industry with new technologies and pioneering new products and treatments, here at City Dental Laboratory we pride ourselves on the top of the range technologies we can offer to our clients.

Our technicians are trained on the latest CAD/CAM technologies and can work with Digital dentists across the country.
We are also an official 3Shape TRIOS System Owner and Community Member. This means we can accept digital as well as physical scans from any practice that is connected to it.

Delivery and collection
We operate a delivery and collection service Monday to Friday, which can normally be arranged as a mutually agreeable time, therefore you know exactly what time our driver will be calling.
Our friendly drivers; John, Peter, Rob, Brian and Geoff understand the importance of a punctual and reliable delivery and collection service, so you rest assured we will be there when we say we will!